Are you in the market for a new trail running shoe? Altra's Lone Peak 6 are currently on the shelves. I've had mine since mid March and have put a bunch of mileage on them. Both trail running & hiking, so I have a few thoughts. Here's my Altra Lone Peak 6 review, read on to see if it might be right for you.
Upper & Fit
The shoes upper is a lot less restrictive than the Lone Peak 5 and feels more freeing. It's lightweight and really breathable. I do like the lacing (and laces) better than the previous model. The lacing & upper really hugs your foot. And the laces themselves have a little bit of flex to them, and are not as long as the Lone Peak 5s. Which is a huge plus!
I have a bit of mixed history with Altra's. Over the past 10 years they've previously never quite fit my foot right. A mix of width and length issues. I used to wear a size 11.5 before going minimal about that same time (10 years ago) then I had to move up to a size 12. But I finally found the Altra Lone Peak 5's to be a good for me. But I had to go all the way down to a size 11. Besides the actual number of the size, they worked out well for me.
Now with the Lone Peak 6, I am a size 11.5 and they fit even better for me. The toe box is just wide enough, without being clown-shoe'ish. But I also don't have a super wide foot. They do offer 'Wide' sizing in the black/gray color way if you find the need for something wider.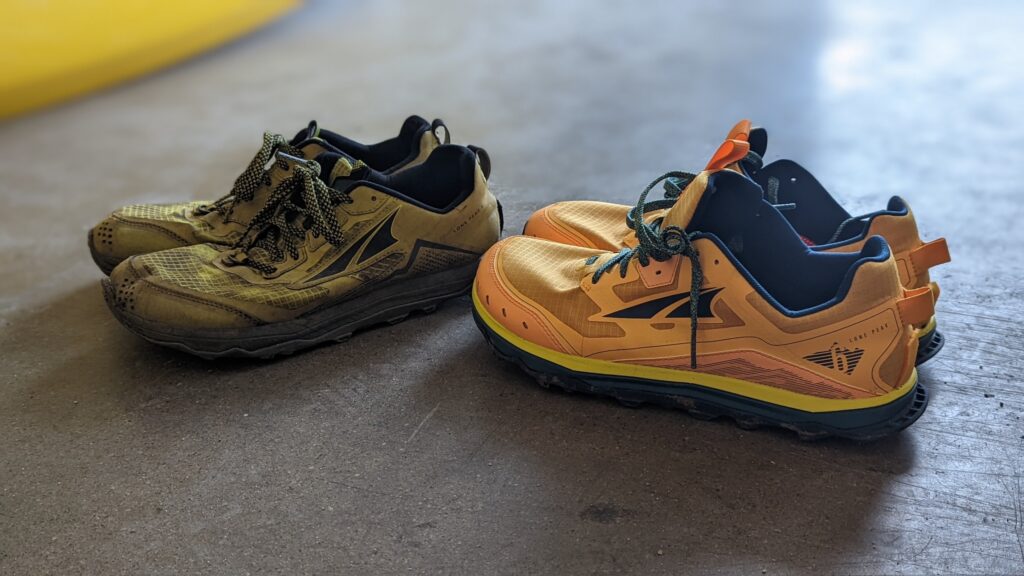 The Sole & Tread
The Lone Peak 6 features Altra's MaxTrac™ outsole with TrailClaw™. The shoe was pretty grippy and had some pretty good traction out of the box. But I was also comparing it my pair of Lone Peak 5's that I had for a year, where traction was totally shot.
I can see the treads fading a little bit by now, but I've had them for about 3 months and put a lot of milage on them. Not necessarily all trail running, but also weekend hiking trips.
I do wish they used Vibram soles so the tread would last a bit longer, but for whatever reason they've strayed away from that over the years. I'm sure they have their reasoning.
Cushion
Cushioning is perfect here, with their ALTRA EGO™ foam. Not too much, not too little. It's just right!
I'm a pretty minimal runner and don't ask for a ton of cushion from my shoes. But even if I wasn't I still feel the cushioning would be substantial enough. There's also a stone guard to help when on rocky or rough terrain.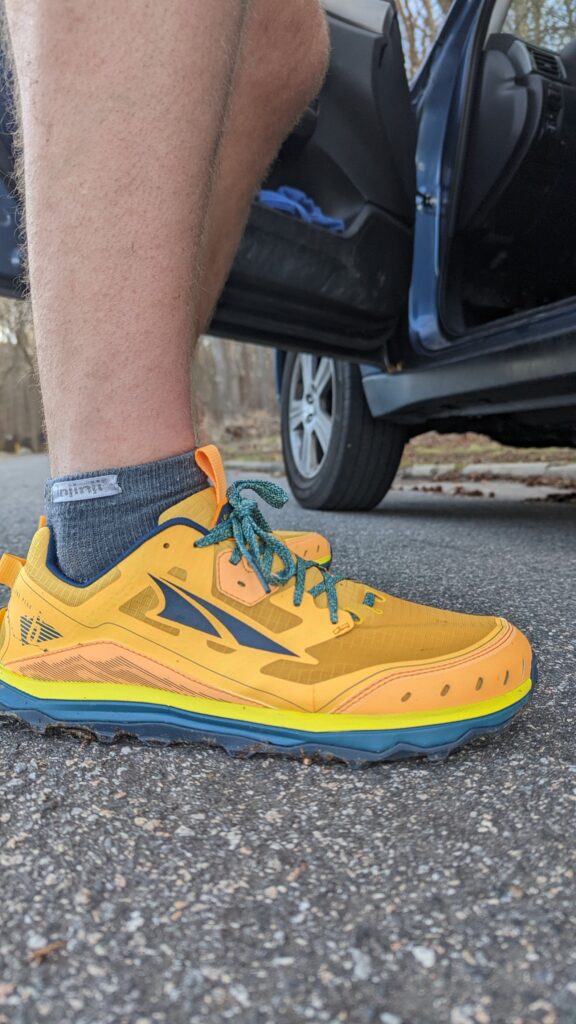 Other Features
One really neat feature that I learned after a visit to one my local trail shops. Is that Altra tweaked their finger pull tabs on the back of the shoe to help out hikers. They made the pull tab go horizontal instead of vertical so that when hikers attach the shoes to a carabiner on their backpacks, the shoes will sit flush on their backpacks and not get in the way as much as they would with the old finger pull tabs.
How cool is that?!?
Altra's GAITERTRAP™ makes it's return here. But they removed the little clip piece on the forefoot. Instead their branded gaiters now just clip onto the bottom of laces. The velco on the heel of the shoe is still there, unchanged.
The toe bumpers on the 6's have also been improved. As you may have noticed in my earlier picture, when side by side, the Lone Peak 5's toe bumper has clearly separated from the shoe. This seems to have been a common issue for the Lone Peak line. But so far, mine haven't shown any signs that they're looking to come unglued.
Colors
I know. I know. You're not supposed to care about colors. Especially out on the trails because they're gonna get dirty quickly anyways.
But with Altra offering so many different colors for their Lone Peak series. It is hard not to be at least a little bit choosy on the color.
Altra's Lone Peak shopping page is currently showing 5 different colors. A solid mix of subdued colors and bright colors. I chose the super bright standout orange because I like my running shoes to stand out, but also because that's my favorite color. It was an easy choice.
But for when I buy my 2nd pair, I'll switch it up and try the Dusty Olive color way. Even though it's not as stand out'ish. I still think it looks pretty cool.
Quick Review Of The Lone Peak 6:
Pros
Great fit
Minimal, near 'barefoot' shoe
Awesome colors
Great tread and traction
Thoughtful design
Cons
Not Vibram Sole
Sizing Different From Other Brands
Weight: 10.6 oz / 300 g
Midsole: Altra EGO™
Outsole: MaxTrac™
Cushion: Moderate
Stack Height: 25 mm
Upper: Quick-Dry Air Mesh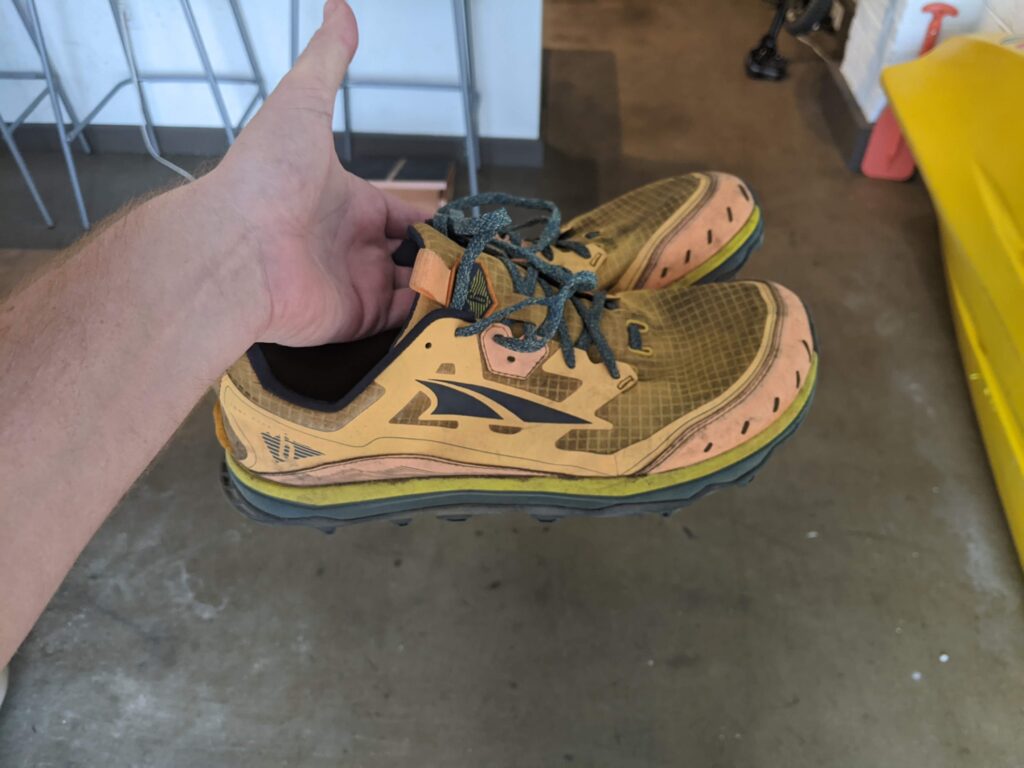 Additional FAQs
Is the Altra Lone Peak 6 Good For Hiking?
Most definitely! The Lone Peak 6 is an excellent shoe for hiking. It's my go-to shoe for it. Along with many other hikers. Including those on the Appalachian Trail and Pacific Crest Trail.
Can I use the Lone Peak 6 as my road running shoe?
I wouldn't use it as my primary road running shoe. The tread would wear down so quickly the grip would be terrible when you actually go to use them on the trails.
On the other hand, they could work as a door to trail shoe as the tread isn't that substantial. Meaning, you could you leave your house/apartment and then run the roads to get to the trails. They'll work well for that.