Everyone loves gifts….especially trail runners. As a gear lover and trail runner myself, here's a pretty solid list of a bunch of stuff I'd love to get. So enjoy this list of great gifts for trail runners.
What are some great trail-running gifts?
I've written about these guys a couple of times. So if it's not totally obvious already, I love these socks! They're on my Xmas or bday lists just about every year. (And yes, I still make lists lol)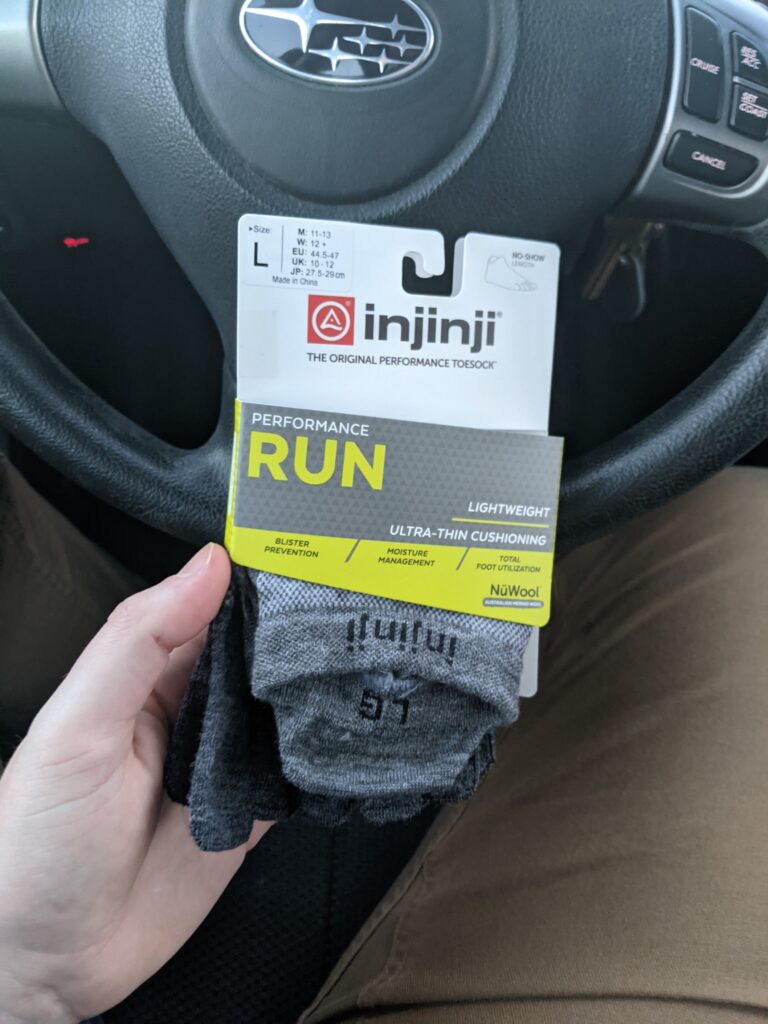 My family members, especially my mom, know my sizing and preference. Size large, black/dark, and low-cut to help keep out some dirt. But can easily just do a no-show as well.
They didn't make the cut for my bday list this year because my mom randomly ordered 2 pairs after she got a BOGO email offer from Injinji. Marketing at its finest of course.
If you're a runner who likes wearing sunglasses while you're running, you should check these guys out. They have a bunch of fun colors, don't slip around a bunch when running, and are pretty affordable at around $25 or $35 depending on the model.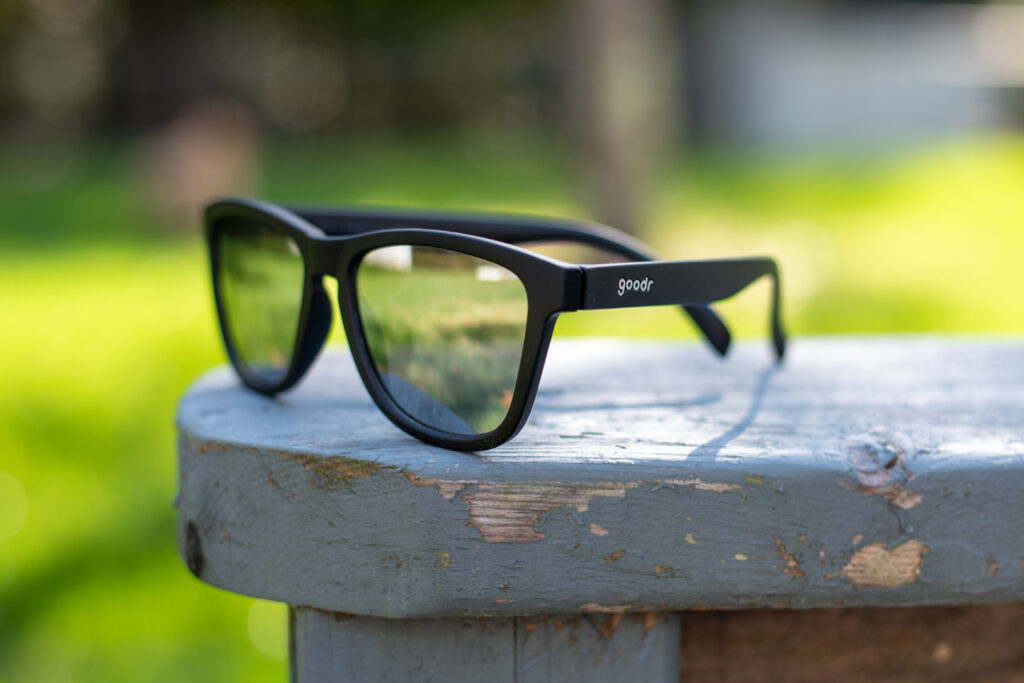 Plus they have the tagline "SUNGLASSES THAT MAY OR MAY NOT MAKE YOU FASTER" so who can't love a brand that puts out something like that?
Hands down one of my top 2 favorite shirts right now. It looks great, fits great and you can run, hike, bike, or wear it casually all day every day.
Its synthetic fabric is really breathable and along with a perforated back, it does a pretty good job of keeping you cool and ventilated. And the perforated back is not super obvious as I've seen with other button-up shirts that attempt the same thing, so that's a huge visual plus.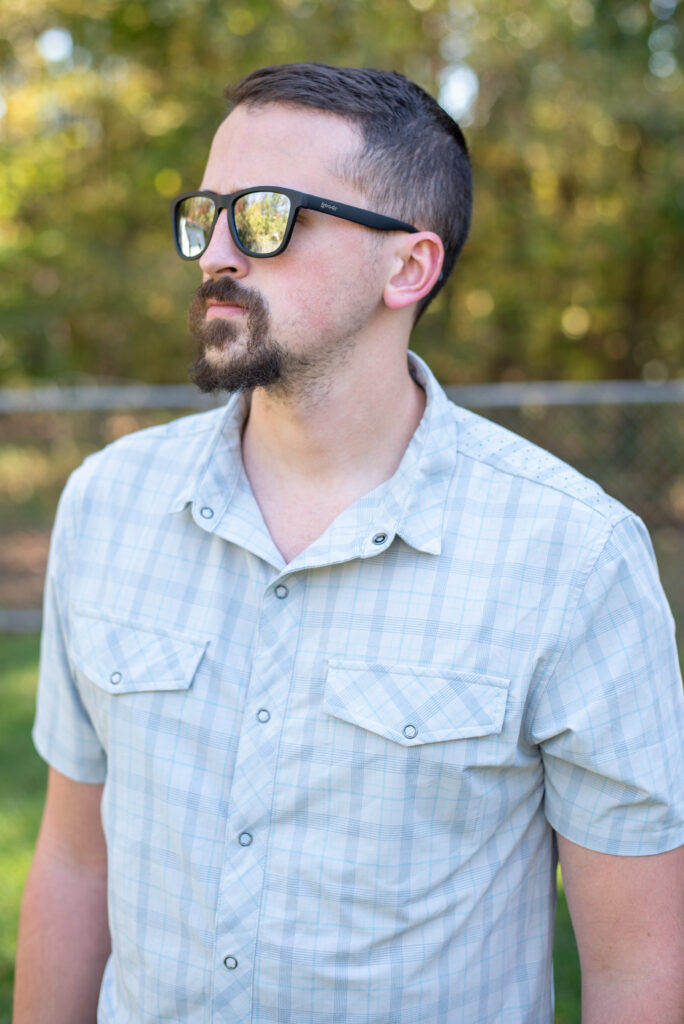 It holds pretty well when trail running. Just be sure to keep the top button snapped as the collar kind of bounces around and can get annoying if not.
I'll wear mine to the office often and have gotten a few compliments on the shirt. Will be ordering another color or two here soon now that they've come out with more options. Although it's a bit expensive around $70, I find it to be well worth it.
A great compact headlamp with 400 lumen max output, perfect for your night-time trail running needs!
It can also be used for camping/hiking or as a spare light source in your car. I've got a few stashed away in key spots, like glove box and my everyday backpack in case I forget to grab mine for post work runs in the wintertime.
I wear a hat every single run I go on. I have a bunch and try to rotate them around, but always keep going back to my Patagonia Duckbill Trucker Hat. Looks great, fits great and the built-in sweatband always comes in handy!
I have the classic short duckbill cap as well but don't really think that's much of my style. I'm also eyeballing this Territory Run Long Haul Cap. I've seen a lot of good reviews and it just looks pretty cool.
The bees-knees right here. Just about every runner would benefit from this stuff. Whether it's race day or just a training day, staying chafe-free is a necessity.
Glide is my favorite anti-chafe product. Looking and acting like a stick of deodorant, you just rub it where you need it.
Hate wearing muddy trail shoes in your favorite coffee shop post-run or on your drive home? Enter Crocs! If your favorite trail runner person doesn't have a pair of Crocs, you may want to consider grabbing a pair.
Perfect to keep in your car for a post-trail run. Just slip 'em on, you don't even need to take off your socks. Or you can. Whatever.
Customize them by adding a few Jibbitz, aka charms to show off your favorite sports, other hobbies, or even Disney characters.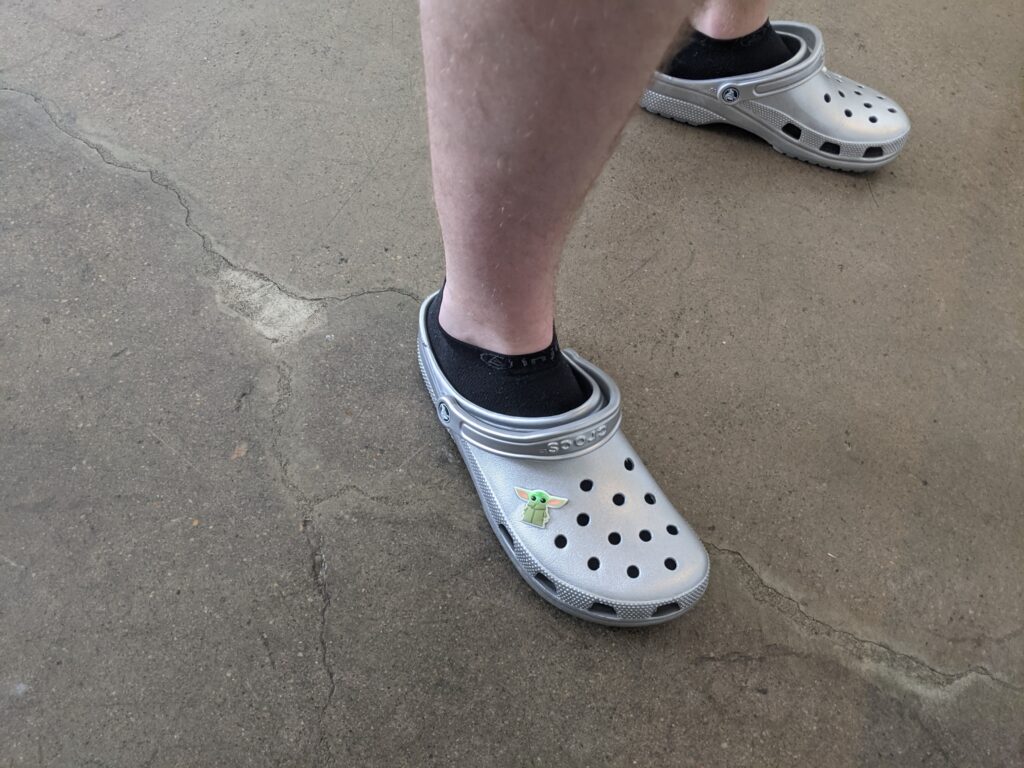 Back to Patagonia again, but for good reason. These are my favorite running shorts…and Patagonia finally has them back in stock! Even got my roommate hooked on these things.
They have plenty of pockets and are the perfect length for trail running (IMO) and even wearing out to that coffee shop post-run or to the pool on your off day. I have 3 pairs, so I'll wear mine just about everywhere I can.
The rear zip pocket typically carries my wallet or phone vertically without zipping if I'm casually wearing them or my key if running. Phones are so big nowadays it's hard to really expect a pocket where one can completely stash it away.
The four stretchy pockets (two on each side) can fit gels, a set of keys, chapstick or other small items.
Easily my favorite gel or brand of running snacks/food. A lot of other gels taste too synthetic'y for me. HoneyStinger tastes like honey. Which keeps me happy.
Their waffles are also pretty tasty so you should check those out as well.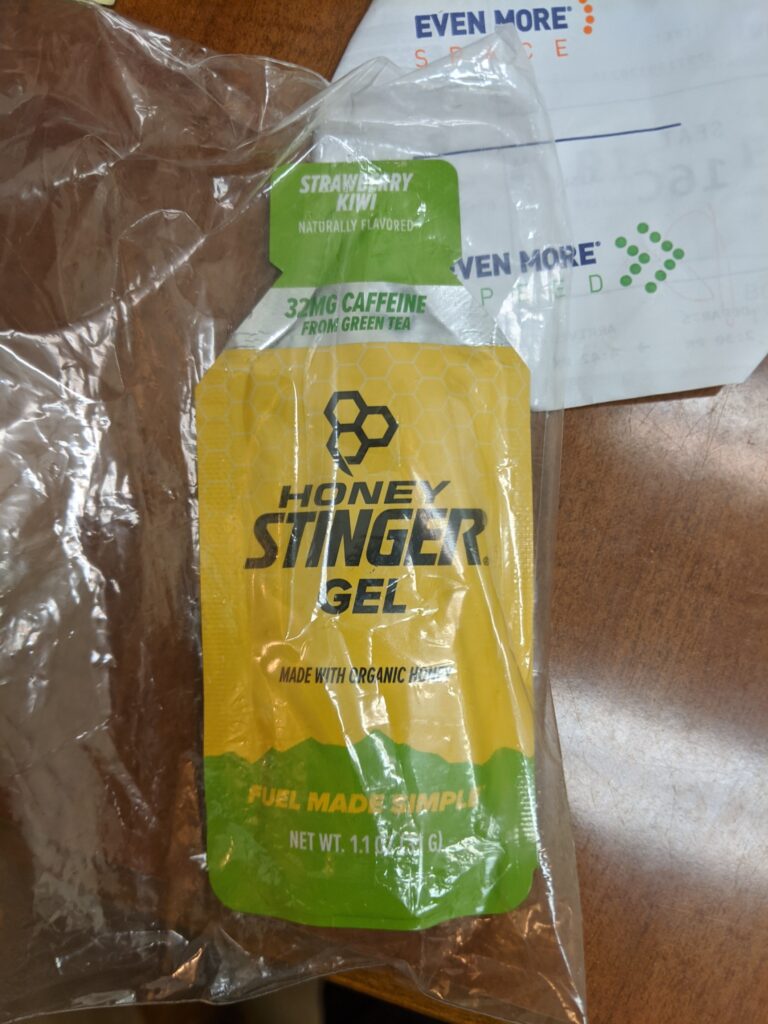 If I'm not rocking my toe socks, I'm likely wearing my Smartwool PhD Running socks. Well built, lightweight, great fit, thin, and very breathable.
Smartwool socks are great in both the summer and colder months. Their breathability helps in the heat, and wool's natural ability to keep in heat helps in the cold.
This is helpful for the runner who is interested in keeping up with the latest and greatest gear. Or nutrition and other various trail running tips.
I generally ask for their magazine subscription at Xmas so I can use it for a bit of extra motivation throughout the year. It also helps me keep tabs on the community and gives me ideas of cool places to eventually run at.
Trail runners are typically out longer than their road-running counterparts. And thus, they may need portable hydration. It can come in various forms, like a handheld water bottle, a belt, or even a form-fitting pack.
It comes down to preference and/or needs when trying to determine which could work best as a gift for trail runners. Handheld water bottles are typically smaller and won't be able to carry gear but the runner won't have to worry about wearing a pack or belt that could bounce around.
Some are better than others in terms of bounciness but it can come down to the individual. Belts may be able to carry an extra water bottle and a little bit more gear, or even hiking poles. While a pack may be able to carry a liter of water or more, as well as a lightweight jacket, poles, trail running hat, etc.
Every runner should have a yoga mat. Perfect for stretching pre and post-run. Or of course for actual yoga during an off day.
Another headlamp that made the list. This one is popular for being super lightweight and having a very simple, streamlined design.
Tired of needing a place to change after work before your trail run? Or getting your driver's seat all sweaty post-run? Well….look no further. I present the Orange Mud Transition Wrap!
Haha ok, I'm done with my infomercial. But really this thing is great and can really come in handy for the above-mentioned reasons. It'd make a great gift!
This one is for the health-conscious athlete or maybe one looking to stay away from alcohol. I like the brand Athletic Brewing, they have an IPA that is pretty good. You can taste that it's not 100% all there beer, but it's a great replacement while out on the river or chilling during a cookout.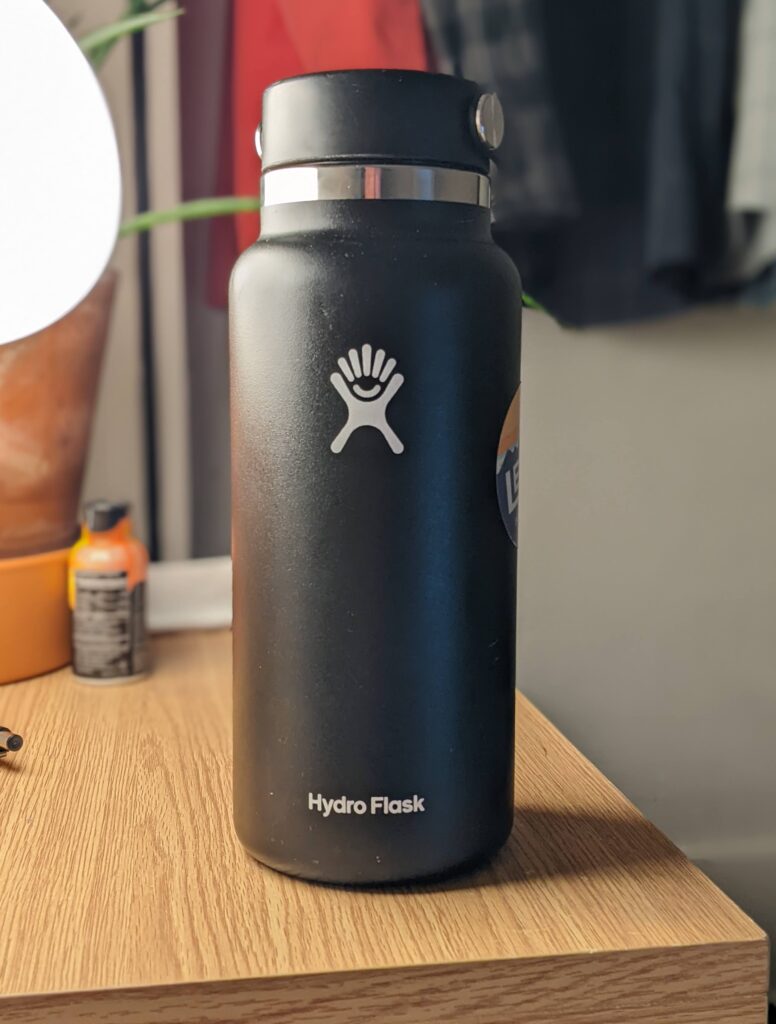 The Hydroflask water bottle makes for a great post-run hydration tool. Its "double wall vacuum insulation protects temperature for hours" Meaning cold water can remain cold water while baking in the car during a long trail run.
My 32oz Hydroflask almost lives in my car. Or at least in my day bag. Where it stays ready for me to enjoy post-run.