Hiking without underwear is the best! (For me, personally, at least) I've been hiking in lined running shorts for the past 10 years and never want to go back to wearing em. Here I break down the pros and cons of one very freeing wardrobe choice. And why you should as well.
Hiking Without Underwear – What Are The Pros and Cons?
Pros
Letting everything breath is key here. Running lined shorts are built from the ground up for breathability. The liners are generally synthetic, quick drying and breezy. You could always go a step further by hiking commando for the ultimate in breathability. But that's not quite for the feint of heart, I'll circle back to that in another section below.
Another huge reason to hike without underwear is simply that's one less thing you have to carry in your pack. Less weight, less bulk. If you're out on a quick one-nighter, you might not see the whole benefit.
But on a multi-day or multi-week trek, not carrying 2 or 3 pairs of underwear allows for bit more pack space. Maybe you can carry that copy of Dune you've been meaning to finish but have never gotten around to because you already know what's gonna happen after already seeing all the movies and shows.
It also can provide better chafing protection. Chafing is never a fun thing to do through, but I've found wearing my lined running shorts drastically cut down on chaffing compared to regular underwear.
Cons
One of the biggest reasons to actually choose to wear underwear (or at least not wear lined running shorts) is that you'll lack the ability to swap out for clean drawers.
You are stuck with wearing the same thing day after day. Maybe you crush a bunch of milage on a hot summer day and have no other running shorts or you have to spread them out before you finish the trip. You are stuck with em and have to decide if that's something you are ok with doing.
You're essentially stuck with whatever is built in with the shorts. Maybe you find compression shorts provide you better chaffing protection than brief liners. Or that one specific brand of untested lined running shorts don't quite cut it. You're stuck.
Path Projects would be a brand to check out if that's something that bothers you. Unlined running/hiking shorts is their bread and butter. Giving you the option of swapping out various different liners. Or even going commando. You can have your cake and eat it too.
Tips For Hiking Without Underwear (What To Wear, Other Gear, etc.)
As previously mentioned, lined running shorts are a go-to of mine. The liner can be brief, boxer or compression styles. This comes down to whatever preference you have. I prefer brief. But you may prefer a 3″ boxer or maybe even 5″ boxer cut. Same with compression shorts.
My favorite trail running and hiking shorts are the Patagonia Men's Core Strider Pro Shorts 7″ inch. They are made up of polyester with a fast drying built-in brief liner. I have at least 3 pairs of these things. They have a bunch of pockets to stash little items such as keys, gels, chapstick and maybe a smart phone depending on the size.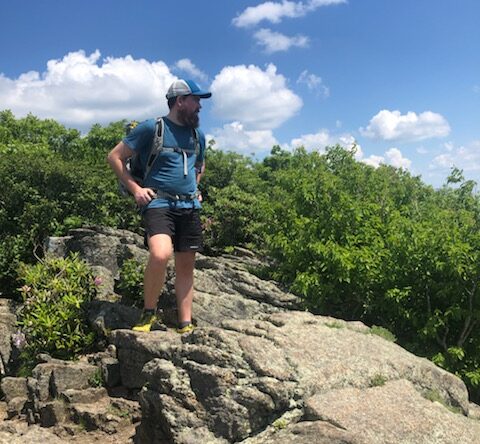 The Fabric Counts
Also be aware that you'll want the lined running shorts to be made up of synthetic fabrics. Or at least a blend. Most running shorts will fit this bill, but some companies like Smartwool have merino wool in their shorts. Looking at REI's site, the Smartwool Merino Sport Lined Shorts – Men's 8″ Inseam has a 86% polyester/14% elastane blend for the outer short fabric and a 56% merino wool/44% polyester blend for the inner liner of the short.
Synthetic fabrics breath really well and dry fast. And they'll pack smaller in your pack than cotton if you bring a few pairs.
Do I Need Anything Else?
Something more, besides the lined shorts themselves, to further help with chaffing. Or if you do decide to go full commando.
An anti-chaffing balm, butter, powder, etc is pretty much a necessity here. Glide Anti Chafe Balm (or Glide for short) is my go-to. It looks like a stick of deodorant and comes in various different sizes. You just rub it wherever you need it.
Or you can go with one of it's competitors such as KT Tape Chafe Stick or Squirrels Nut Butter Anti-Chafe Salve, or the classic Vaseline if that's all you can find. But Glide is my favorite. Works really well and lasts a while.
What Should I Sleep In If I'm Hiking Without Underwear?
I will often bring an extra pair of lined running shorts to wear during the nights then hike in on the last day before washing on a town day or finishing up the hike.
Or maybe bring a single pair of underwear to sleep in.
Going commando while sleeping is also a possibility here. But consider others when doing this. Say you're on the Appalachian Trail and decide to stay the night at one of the shelters, going commando for the night might not be ideal.
What About In The Wintertime Or When I Wear Pants?
Sometime's I will even wear my lined running shorts under my pants in the cold. Especially in the mornings if I think I may ditch the pants later in the day once it gets warmer.
Otherwise, when I know wearing pants is going to be a given, I will break down and actually bring underwear. But I make sure it's a synthetic fabric or blend, like polyester, nylon, spandex, etc. Merino wool based underwear may work for you as well, especially in the winter, since it will be warmer than just synthetic fibers. I just recommend staying away from cotton.
I have a few pair of synthetic based Jockey underwear. But Ex Officio seems to be the breadwinner in this category. I just haven't been able to break down and pay that much for a single pair. I hear they're well worth it though.