Just starting your trail running journey? Or maybe you've been doing it for a while, just not much after dark. Here are 8 helpful tips for trail running at night.
1) Get A Headlamp
This is probably the most important trail running night gear you can have. A headlamp will allow you to see the trail in front of you so you can safely leap over rocks, roots or whatever other obstacles there might be. It'll also help you stay on the right path, aka not get lost.
You may even need two sources of light. At times, I've used a running hand lamp in addition to my headlamp. The headlamp provides general light, while the hand lamp can be more pinpointed and directional.
I use the Nathan Zephyr Trail 200 model. It fits comfortably in your hand with straps keeping it in place so you'd also have to have a tight grip on it.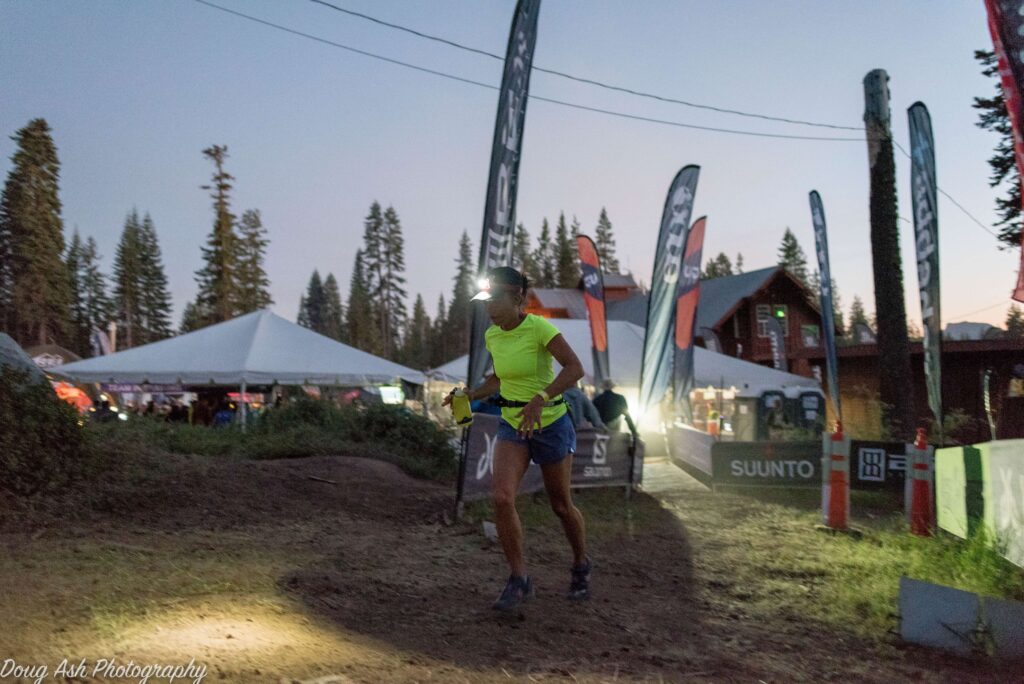 2) Choose Your Trails Carefully
When trail running at night, it's best to stick to trails you're already familiar with. Or at least have easy-to-follow markers and directions.
It's a lot easier to follow a trail in the dark if you've done it five times, 31 times, 100 times, or whatever. You get the point.
3) Let Someone Know Where You'll Be Running
The trail, the mileage, and how long you plan on being gone. This is huge if you're trail running at night alone.
I'll often text my dad that info, but you can do best friend, partner, family, whatever works best for you. Even if they're a ways away they'll be able to pass this information along to the necessary parties should the need arise.
4) Wear Reflective Clothing/Accessories
Although you might not be crossing many streets or running near cars, you never know where the run can take you. Having the right reflective clothing and/or accessories will help you be seen. Plus they would be quite helpful in an emergency situation where someone is looking for you. Any reflective clothing will stand out with flashlights.
Some running brands even have a specific line of projects made specifically for being seen at night. They should be pretty easy to get year-round, but brands release a bunch of them in late summer or early fall to help prep for the upcoming shorter days.
Check out some of these specific lines by Brooks and Sugoi. But even if don't get a special hi-viz jacket, a lot of running apparel has a few pieces of reflective gear on it anyways. Places like the logo, the shoulders, sleeves or back.
If you don't want to buy any new gear, you can always buy a reflective vest, a clip-on light, or various other reflective accessories made for that. Running Warehouse always has a great selection of those.
5) Carry Extra Food & Water
In case you take a wrong turn and don't end up getting back as soon as you like. Even if it's just an extra pack of Honey Stringer Chews and a full hydration bag of water when you normally fill it up halfway to cut weight.
You never know when that'll pay off.
6) Wear Or Carry A GPS Locator
In case you do get lost. Very popular with hiking, but can also be used for trail running. Hook it on your hydration pack or belt. Or even throw it in a running shorts pocket if the model is small enough.
Garmin and SPOT are popular brands in this space. Press a button to call for help. Some even have emergency texting services available.
7) Run With A Buddy (Or Few)
This is even better than simply telling someone else where you'll be. Bring that person with you.
Or if you happen to be in Richmond VA, you can join some of us crazy folk during the next REMR, which stands for Really Early Morning Run. It's a trail run generally held twice a year at 2 am on Saturday mornings.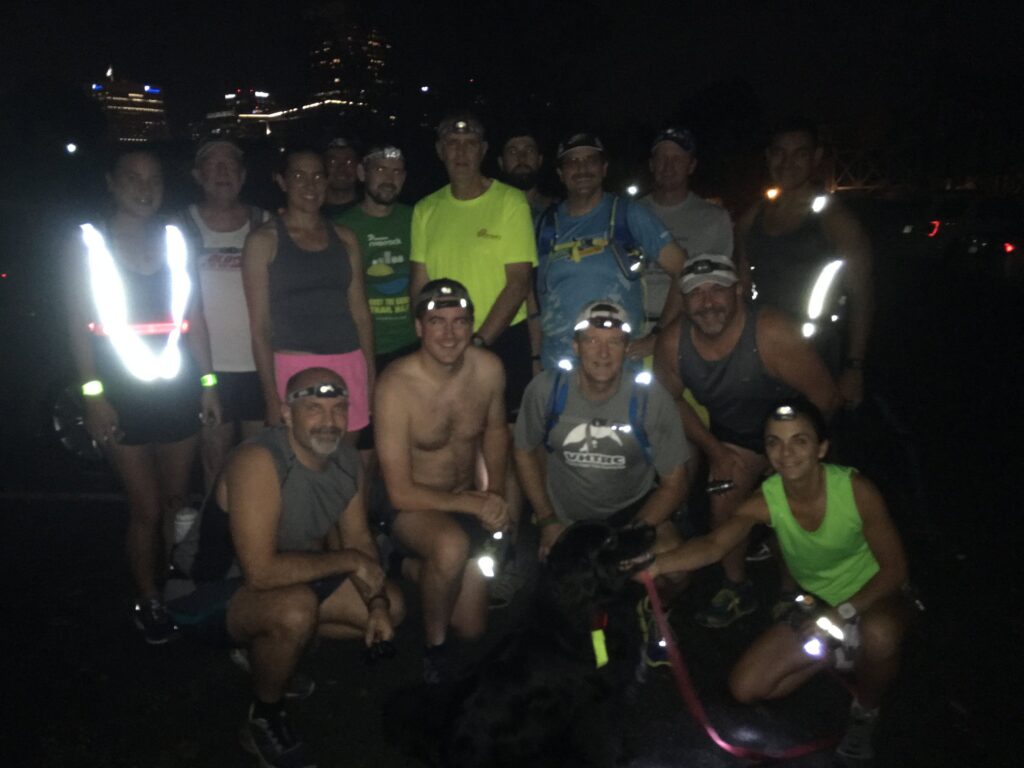 Mileage varies by what you're looking to do. Some members of the group run throughout the night and grab breakfast to cap off the event. I typically cover 4-7 miles and call it a night. It always seems to happen on my busy weekends, and I enjoy my sleep.
8) Start Slow
Start slow and ease into the run. Let your eyes adjust. Get your trail legs underneath you.
Dial in your headlamp and/or hand lamp settings and make sure they fit properly.
Additional FAQs
What's A Good Headlamp For Trail Running At Night?
The Black Diamond Spot 400 Headlamp is a great compact headlamp for trail running. It's got a 400-lumen max output, and various brightness levels, and it's even IPX8: waterproof-tested to operate at least 1.1 meters underwater for 30 minutes. So you'll be good if you get caught in the rain with it.
Or go for the BioLite HeadLamp 330, a no-bounce rechargeable headlight with a great fit. This one is popular for being super lightweight and having a very simple, streamlined design.
They can also be used for camping/hiking or as a spare light source in your car. I've got a few stashed away in key spots, like my glove box and my everyday backpack in case I forget to grab my primary one for post-work runs in the wintertime.
How Many Lumens Do I Need For Trail Running At Night?
According to REI, you want a headlamp that is capable of producing 200 lumens as a minimum. You should also be sure that the headlamp you choose has various different beam and brightness settings so you can tweak it to your needs while out on the trails.