If you're planning a short (or day) hike, it's important to bring the right gear. Depending on the terrain and weather conditions, you'll need to pack accordingly. Here are some essential items to bring on your next short hike: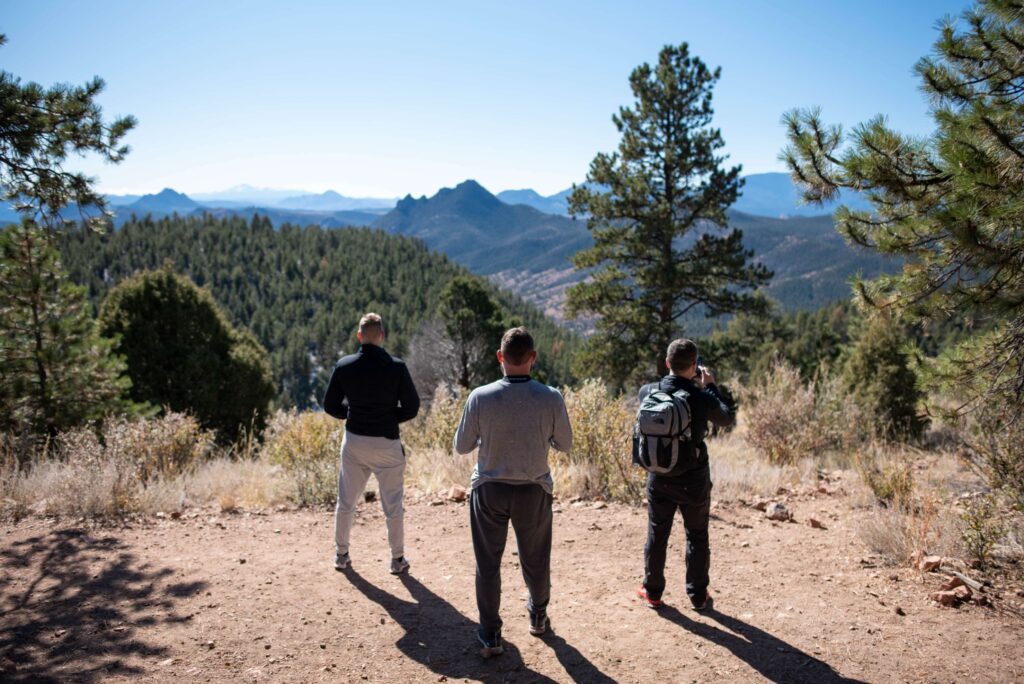 Essential Items To Bring On A Short Hike
1. A map of the area, in case you get lost
Or an app with offline features like AllTrails Premium model, that allows you to download the map/use it offline. Because you'll likely not have service up in the mountains, and it'll be best not depend on it.
Sometimes I'll write down a trail outline, parking, etc or even just screenshot it on my phone so I can easily access it as needed.
2. A first-aid kit, in case of any injuries
Having some sort of first-aid kit out on the trails is essential. Besides being able to treat cuts and scapes, you'll also be able to treat bee strings, splinters, and more importantly: blisters.
Mole skin and duct tape has helped me a bunch of times. Duct tape by itself is worth it's weight in gold while out hiking. I use this kit from REI. It's waterproof, decently priced and has all the essentials (including that duct tape!)
Some kits may even have an emergency blanket in case you have an unplanned stay overnight. And if it doesn't, you can also buy it separately and throw it in there for your trip.
3. Plenty of water, to stay hydrated
According to REI, you should be drinking about "one half-liter of water per hour of moderate activity in moderate temperatures." Or a 1 liter for every two hours.
Covering two miles an hour is a pretty good estimate that I use when calculating how much water I should bring. You may go faster, but that's a pretty good baseline.
So if you're going out for a 6 mile hike, that's approximately a 3 hour trip before breaks/lunch/creek swimming/view viewing/etc. A good recommendation would be to bring 1.5 liters of water. It can be carried in a hydration bladder, or a few water bottles.
Sometimes I'll even bring my Sawyer water filtration system out on short hikes if it's going to be really hot, in case I end up short on water. That way if I come across a creek or shelter on the Appalachian Trail, I can refill water right there.
4. Snacks or a lunch, to keep your energy up
Keeping your energy up is key while out on the trails. The amount of food you should bring depends on how long the hike is and when you actually go out.
If it's the same six mile hike I mentioned earlier, you may decide to be at the trail head around 10am. You could grab breakfast beforehand, then only pack for lunch and maybe a few extra snacks. Then grab dinner on the way home.
Lunch could be a peanut butter/jelly sandwich or two. Or maybe a sub from Wawa, that you grabbed along with breakfast.
Snacks could be a Cliff bar, Snickers bar, Peanut M&Ms, trail mix, tuna packet, beef jerky, Combos, or countless many other items.
5. Appropriate clothing, depending on the weather conditions
Clothing all depends on the weather. If it's warm and sunny, you'll find me rocking shorts and a synthetic t-shirt all day everyday. You want breathable and light fabrics.
Even if it's not quite warm, but still sunny I'll prob be in at least shorts then maybe a t-shirt and synthetic quarter zip layer to take off once I get my blood flowing.
Pants are, of course, great for the cold. But also good if the trail will have heavy brush or if you're super allergic to poison ivy. They can help protect your legs. Same can be said for long sleeved shirts.
If it's rainy and crappy, a rain jacket would be helpful. I like using hiking ponchos though as they allow breathability and also cover my hiking pack, adding an extra layer of water protection.
6. Hiking boots or shoes
Depending on the mileage and terrain, you'll want a tougher trail shoe instead of casual, training or running shoes. Hiking boots/shoes give you a lot of extra traction as well as stability and support.
Some may also be waterproof which would help in the rain or if you have to cross a creek.
Hiking boots and shoes aren't a 100% need for a short hike. Especially if you don't do many hikes and can't quite justify spending $100 or more on separate shoes.
Just be sure to wear comfortable shoes, preferability athletic shoes that still have some traction and cushion.
7. A backpack, or daypack
Bringing all together here. You'll need something to carry all your short hike gear. Depending on the length of your hike and how much you're actually bringing.
A typical 'school' backpack will work just fine. Especially if it already has a water bladder pocket built in. Otherwise you'd have to stash water bottles throughout the pack or in the outside water bottle pockets.
Not quite a deal breaker, just not as convenient.
If you wanted to purchase a specific hiking day pack, aim for one less than 40L. Unless you want to also eventually get into longer hikes, then you can purchase one larger. Kill two birds with one stone.