Short answer, most definitely yes you can. It's been my go-to tripod of choice for photography-based hiking trips over the past two years after upgrading from a cheap, entry-level tripod that I had forever.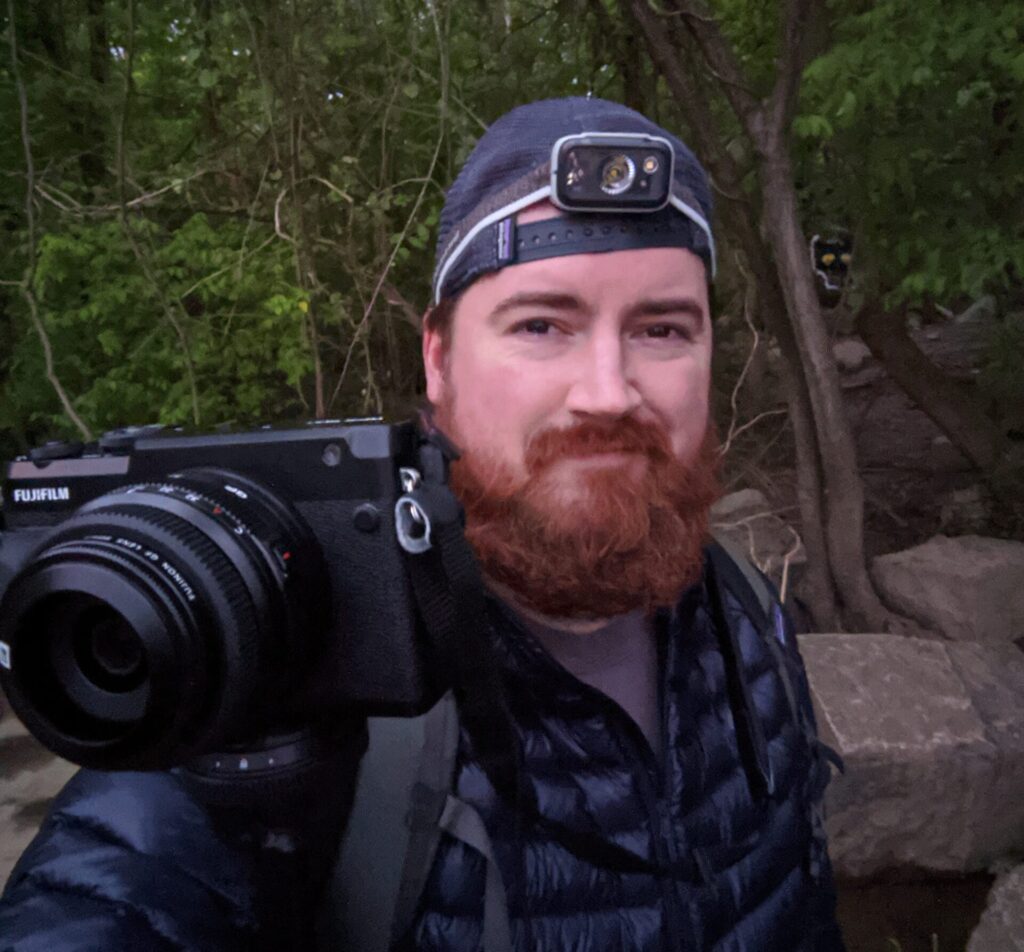 The Peak Design tripod has been a breath of fresh air and is actually fun to use. You always feel like a badass when extending and then collapsing the tripod legs after use. I think it's the sound the legs make and the sturdy build feel of the tripod. You should buy it based on those sounds alone.
Although the tripod isn't perfect it's still overall a great hiking tripod. Here's why.
Here's What I Like About the Peak Design Tripod
Now time for the good stuff. My long list of likes for the tripod. I use the crap out of this thing; travel, family beach trips, and especially out on the trails.
Lightweight, Compact & Intuitive Design
It's pretty lightweight at 3.44 lbs. I still wouldn't want to drop it on my toe or something like that. But it's not bad. Especially when compared to the tripod I was shooting with before.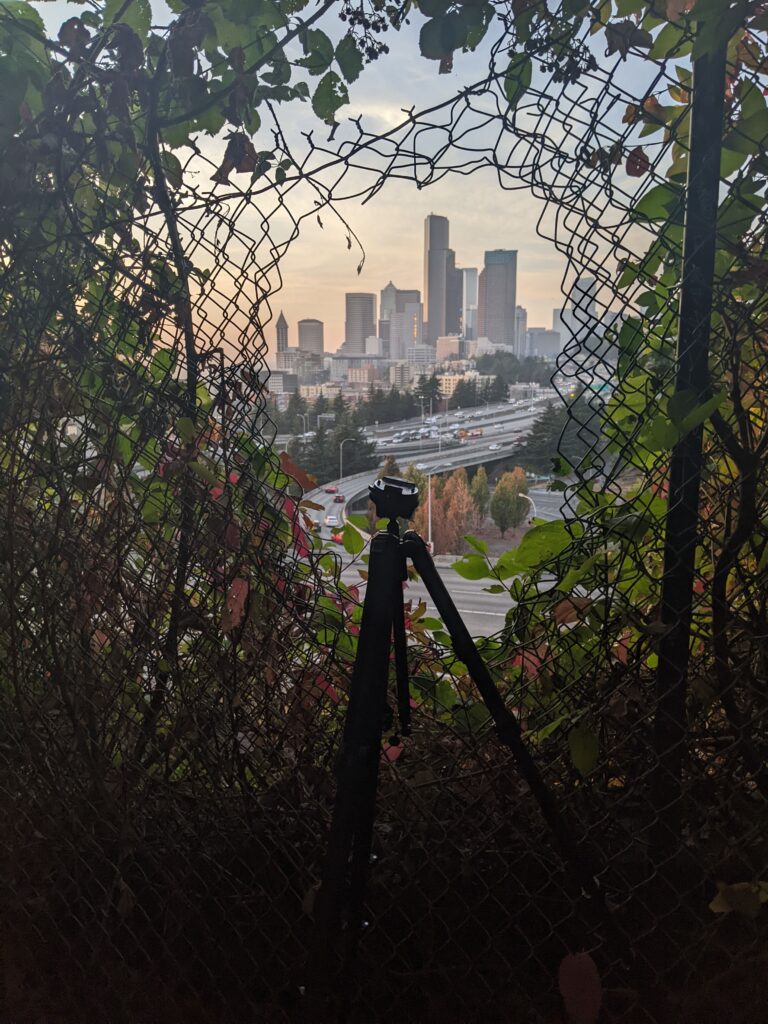 When it's all packed up, it's super compact. The interior of the tripod legs is flat so they get really close to the center post. Both ends of the tripod can fit in my backpack's water bottle pocket, so that tells you something about its width.
Simply looking at the tripod, you can tell a lot of thought was put into it. Everything fits together like a puzzle.
There is an even lighter-weight model made of carbon fiber. It only weighs 2.81 lbs but also costs around $650 vs $380 for the standard aluminum one I'm talking about here.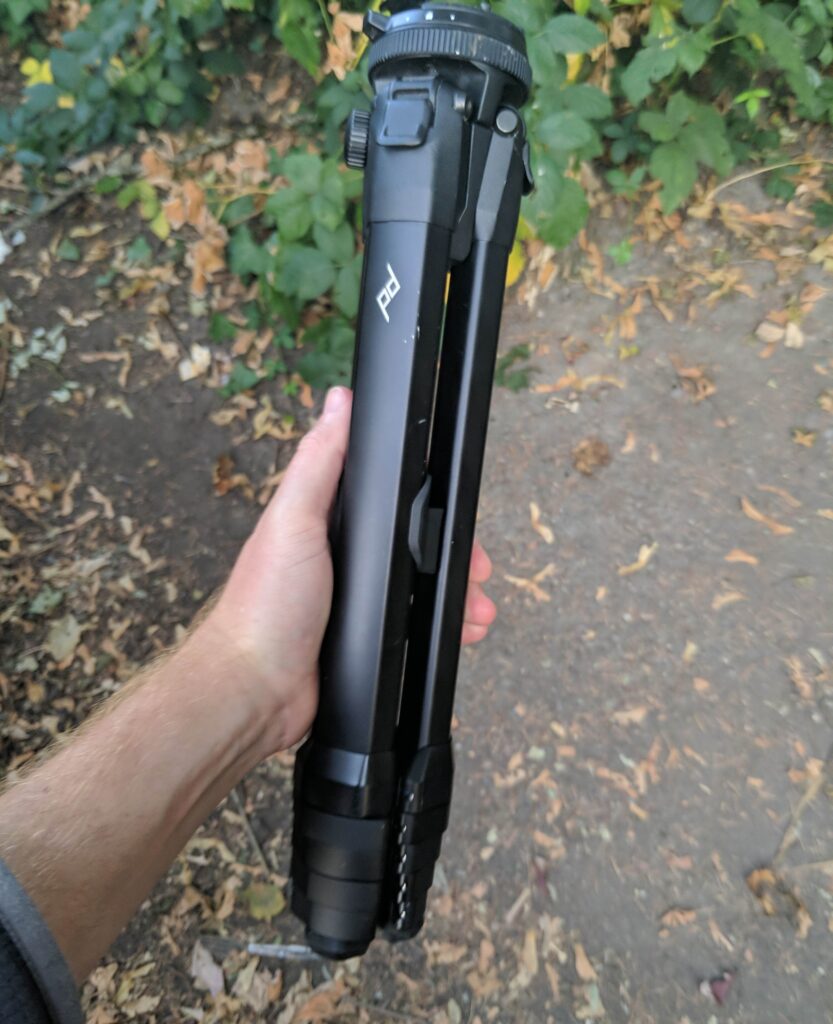 Ball-Head Swivel
I really like the tripod ball head swivel. It's quick and easy to adjust. And you can go portrait mode in a pinch.
ARCA-Compatible Standard Plate
The default base plate is the same plate used for other Peak Design accessories. Which makes it super easy to transfer the camera from a strapped-up position to a tripod.
I use the Peak Design Slide shoulder strap and Peak Design Clutch hand strap pretty much interchangeably. I don't even have to remove those straps to set the camera up on the tripod. Although if it's windy up top a mountain, I do so to prevent camera shake.
Cool Accessories Built Into The Tripod
Hex Tool
Most Peak Design accessories are adjusted using a hex tool, so it makes sense to have one be able to be stashed away on the tripod itself.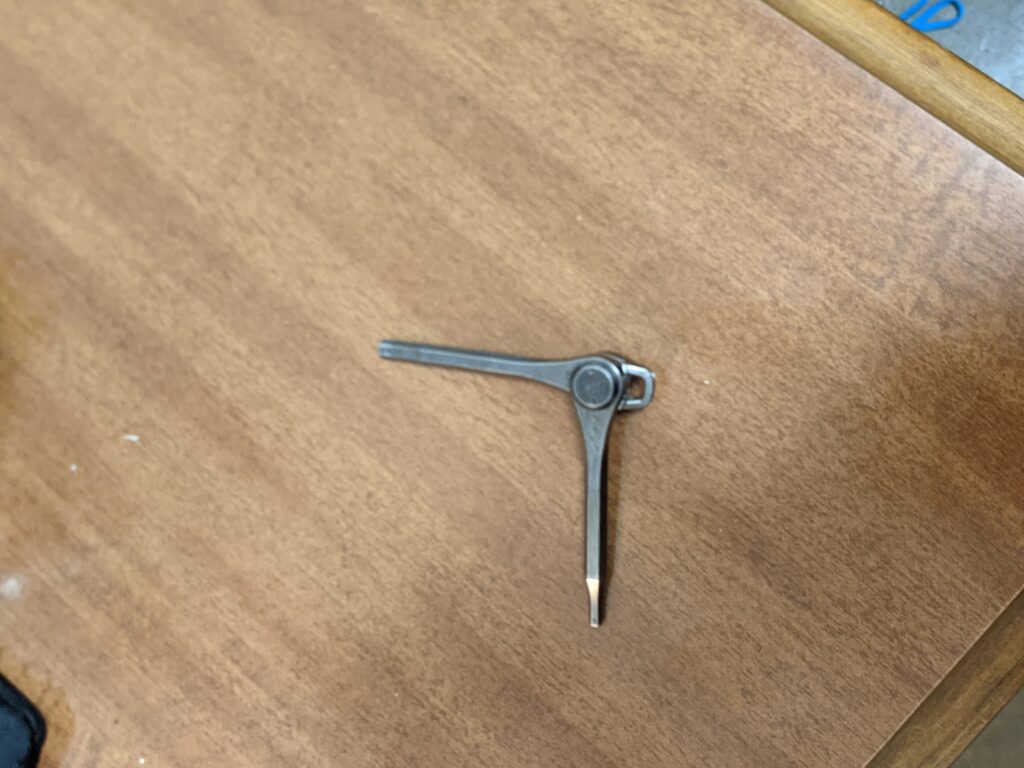 It's essentially part of the tripod legs and easy to grab when needed. The holder itself is also removable if you get tired of it being there.
Cell Phone Holder
Next is the cell phone holder/adapter. This thing is stashed within the center pole of the tripod, under the hook. Which is another cool but common feature of tripods. Used to weigh down the tripod during windy conditions or when you find the need.
The cell phone holder/adapter comes in handy if you're a vlogger type and want to record yourself while shooting handheld with your big camera.
Great Support From Peak Design
Peak Design's product support is fantastic!
At one point I got a little crazy adjusting a clamp screw on the leg and one fell out, while on a pier at a beach. Some of the clamps even went with it into the water. Now, this is entirely on me, but once I reached out to them to see if I could buy replacement screws/clamps, they quickly sent me an entire tripod leg to replace the one hampered by the messed up clamp.
I was pretty impressed.
Here's What I Disliked About the Peak Design Tripod
Tripod In Cold Weather
My first dislike of the aluminum model is how well it conducts the cold. When moving the tripod or making adjustments to the legs, you can definitely feel it. And if you're already cold when shooting, it doesn't help much. I've read the carbon fiber model is better at this, but can't confirm for myself as I've never shot with it.
Hex Tool
Yes I know I've listed this as a pro but it also is a bit of a negative feature. It's great to have it within easy reach all the time. But it's slipped out of its case on a few occasions. Luckily, so far, I'll notice it on the ground before moving spots. Or find it in the backpack side pocket where the tripod was sitting a few days ago. Not having realized it even fell out.
But with this said, I have plenty of hex tools. Something any Peak Design product user can tell you is pretty common. I use a bunch of their straps. And they all need hex tools.
So I keep extras in all my photography bags. But don't always have my photography bag with me. If that hex tool slips out unknowingly, I may find myself in a pinch if I need to adjust things.
Price
Price, it's definitely expensive. Currently around $380 for the aluminum model and $650 for the carbon fiber one. The cost of this guy does hurt the bank account a little bit. Even more so for the carbon fiber model. There might be cheaper tripods that others might prefer but I can't really speak much on that since I've only ever owned cheap entry-level tripods before this one.
Wrapping Up
Hope my little overview helps you decide whether or not you can use this Peak Design tripod when hiking. Here's a recap.
Recap
Likes:
Lightweight
Quick & easy setup
Intuitive design
Great ball-head swivel
Peak Design base plate friendly. Ok with most Arca plates
Accessories, cool that it comes with a hex tool/holder and cell phone holder
Great support from Peak Design
Dislikes
Hex tool holder itself
Price, it's definitely expensive.
Super cold in the wintertime, and this made me kinda regret not getting the carbon fiber model.